Login
Log in if you have an account
Dont have an account? Register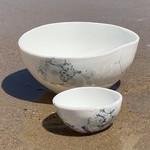 Handmade porcelain contemporary tableware radiates finesse and gives your table a unique feeling
Unique designs from collections of handmade porcelain ceramics are on sale at Artisann. Bags, plates, dishes, bowls, ... Our handcrafted porcelain is suitable for everyday use and gives your table a casual chic. "
A scale, bowl, plate, bag, porcelain vase has its own character and exclusivity. This is always very beautiful in a different interior styles. Combinations are endless. Customers with a minimalist interior often prefer porcelain. Porcelain is the purest product of clay and it also radiates through its fineness and white color.
As a ceramicist you always treat porcelain with a certain pride. Processing and making porcelain is very delicate and requires a certain amount of professional knowledge. Our porcelain collections are made according to different techniques: rotated with the turntable, built with discs, cast in molds ... handmade from start to finish.
Each piece is made entirely by hand in our studio in Knokke. Always different, never the same. Each creation is created with a different force on the turntable, a different thickness in glaze. Only the passion and love for our handicraft remains the same. Nothing machined, just manual work.
Due to the resistance of the porcelain and the firing of the glaze at 1300 °, it is of very high quality and suitable for daily use.
Our tableware also carries the HIB label, which means "Handmade in Belgium" and we are proud of that. Support us with #ikoopbelgisch #shoponlinelocal

Handmade porcelain dishes - coffee service - dinner service - breakfast service - sushi service