Login
Log in if you have an account
Dont have an account? Register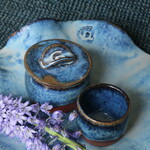 Belgian handmade ceramic tableware with unique glazes
A cozy table set with handmade contemporary ceramics, adapted to your interior and taste. The combination of the imperfection and the handmade is unique. We make everything for a beautifully set table: cup, plate, bowl, scale, ... et accesoires
Have you spent hours in the kitchen preparing a delicious dinner for your friends and family? Then you can finish it off by serving the dishes on stylish ARTISANN tableware! With us you have a wide choice of service sets, plates, bowls, bowls and coffee cups ... Naturally, pepper and salt sets and other important accessories are also included.
A table covered with contemporary ceramic handmade gives the possibility to combine endlessly with colors, structures and shapes to create an elegant and original table decoration. This makes your comfortable table unique, personal and special. The passion for form, material and craftsmanship is clearly noticeable here and together forms a beautiful collection of artisanal works, abstract, colorful and subtle, from tableware to the jewels of art.
Each piece is made entirely by hand in our studio in Knokke. Always different, never the same. Each creation is created with a different force on the turntable, a different thickness in glaze. Only the passion and love for our handicraft remains the same. Nothing machined, just manual work.
Satisfaction as a ceramicist is always great when we are able to adapt a set of dishes to the color and style of the kitchen or the interior with the customer at no additional cost. Visit or send an e-mail and we will design your wishes together.
Our tableware also carries the HIB label, which means "Handmade in Belgium" and we are proud of it.
Support us with #ikkoopbelgisch #shoponlinelocal
Handmade ceramic tableware - Coffee service - Tea service - Table service - Breakfast service