Login
Log in if you have an account
Dont have an account? Register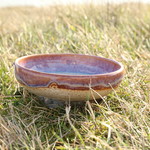 Handmade ceramic bowls for a salad, spaghetti, starter or dessert. So cozy and nice.
Buying a ceramic dish. is a unique piece that can be used as a decoration piece for a personal accent, but also for salad, fruit or pasta. The collection of bowls are natural, elegant and timeless.
A scale will certainly stylishly color your table with a personal zest. You can find ceramic scales in various sizes, shapes, textures and colors online in our webshop and in our store in Knokke. If you still want a different color or size, this can also be made to order. Do count on at least one month of production time. "Handmade" takes time.
All ceramic and porcelain scale are first baked at 950 ° biscuit, then treated with a nice layer of glaze, whether or not painted by hand, and then baked in a 1250 ° glaze oven, making the scale very high-quality and dishwasher-safe.
All our scales also carry the HIB-label which means "Handmade in Belgium" and we are proud of that.