"Short vacation" : 1 - 6/12/2023 ---- Any orders will be processed Thursday 7/12/2023
Login
Log in if you have an account
Dont have an account? Register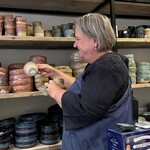 artisann
Ann Van Beersel
Love for the clay
"I have a dream, work in progress"
After my training as an interior designer, I and my husband expanded 22 years into "Hof van Craynbergh". The interior and the table decoration was my creativity and this evolved into making and designing my own plates. I followed courses such as Workschops and Master classes to learn how to transform the earthly product into a beautiful object. In September 2013 I started the ceramics course at the art academy in Mechelen and combined this with my ceramics studio at the Craynbergh. Here I regularly withdrew behind my new challenge "the turntable".
I have a dream
In 2017, the idea grew to open a ceramics studio by the sea in the creative and relaxed atmosphere of Knokke. As a creative ceramist, Artisann is a fantastic dream that has come true. It is great to realize my work in this studio and to give shape to my ideas. My work is combined with the ceramic work of at least 10 Belgian ceramists and this is still growing. The contacts with different talents are very inspiring and so we realize a collection of personal design and handicraft of ceramics that is rich in shape, color and texture.
Work & live in progress
19 juli 1968: Born in Mechelen

1980-1986: Sint-Ursula-lyceum O.L.Vrouw Waver

1986-1990: Interior design Sint-Lukas Brussels

1989: 3rd prize "design" Kortrijk interior

1990: 1st prize "Tecno" avenue louise Brussels

1995-2019: manager, hostess, table & interior decorator of the Gastronomic restaurant "Hof van Craynbergh" in Keerbergen

2013-2018: Education Ceramics Art Academy Mechelen

2018: March 17, 2018: opening artisann