"Short vacation" : 1 - 6/12/2023 ---- Any orders will be processed Thursday 7/12/2023
Login
Log in if you have an account
Dont have an account? Register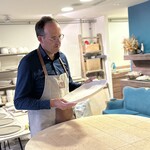 artisanni
Ignace Reheul
Passionate about the kitchen in all its forms
As a former chef / manager I managed the gastronomic restaurant "Hof van Craynbergh" in Keerbergen for almost 25 years with my wife Ann with great dedication.
May 1, 2019 I passed the beater on to my son David who enthusiastically continues his new concept "restaurant The Hill".
In addition to her efforts for our restaurant, my wife always had a second dedicated activity, namely the manufacture of stoneware and porcelain tableware herself. March 17, 2018 her dream came true with the opening of her own ceramic shop and workshop ARTISANN.
As a chef, it has always been noticed that there are quite a few uniform collections in the area of ​​restaurant table service, but with little traditional character. Since August 1, 2019, my first designs have been realized at my clay table at Artisann and it has led me to develop a collection of tableware especially for the better restaurants, brasseries and B & Bs, where originality and traditional manufacture are central.
Achieving optimal functionality has played an important role through my own experiences.
I am also open to working with the chef to develop ideas into a new original collection.
Curriculum
1964: Born in Dendermonde

1986: Graduated in "Ter Duinen" Koksijde

1995-2019: Chef and manager restaurant "Hof van Craynbergh" Keerbergen

2019: Designs collection ARTISANN.i-line