Login
Log in if you have an account
Dont have an account? Register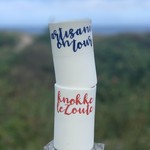 A coffee cup with a name, word is custom made in the desired color
Porcelain handmade cup for sale in a straight cylinder shape on which valuable words are baked and your interior sealed with beautiful memories. This is a very personal gift, must-have that will certainly find a nice place in your home.
"Let your feelings speak with porcelain"
Feelings make you happy
Gif an aded value in life
NEW: Personalize your cup. With an additional cost of 19 € we make a transfer in your chosen name, place, word ... and it is baked on the top edge of the porcelain cylinder.
You have to calculate a delivery time of at least 2 weeks.
I designed the "Columna" to express emotions, values, friendships, relationships and feelings with a clean white straight glazed cylinder that gives every interior a subtle added value.
The "Columna" is very nice to combine with different words and sizes and to put them together as a group. This way you can make a combination of different words together that are important to you in life and this makes it completely personal and unique.
The "Columna" is a beautiful straight porcelain cylinder that is glazed completely transparent on the inside and the top edge on the outside. For example, the white finesse of porcelain stands out nicely from the colored letters. The colored letters are baked in a third tray with a transfer on the top board.
At the back, the Artisann logo is incorporated in a shell in the same color