Login
Log in if you have an account
Dont have an account? Register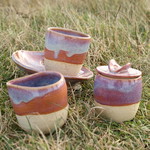 Little happiness is ... cosiness with a handmade ceramic cup or mug for coffee or thee made of ceramic
With the handmade ceramic coffee cups and tea mugs you bring authenticity to every table. The fun colors, shapes and design give your coffee or tea moment more taste. This gives a boost to your hospitality. Cups, mugs are easy to order online.
Hospitality and cosiness start with an authentic cup made of ceramic or porcelain. Great to taste your coffee or tea from a handmade cup. Can be combined with your tea or coffee set.
Every coffee set and tea set is different and has its imperfection, which makes it so unique and personal. The art is to combine different ceramic bags in color and shape into one. There are different sizes from expresso cup to coffee cup to a larger tea mug.
In the online shop you will find a nice selection of different collections of Belgian ceramists. We can also always work to order with custom sizes and colors. Stylish service is very important for experience and hospitality. Very nice to make your table authentic and personal with the artisann service.
A cup is turned or poured into a mold and baked in a 950 ° biscuit oven. After cooling, a nice glaze is added and baked at 1250 ° in an enamel oven. Through this process, our cups are assured of high quality and dishwasher safe.
All our bowls and bowls also carry the HIB-label which means "Handmade in Belgium" and we are proud of that.